My name is Nick Carter. I am 6 feet and 3 inches tall and weigh something like 170 
pounds. I was a writer at Wieden and Kennedy for a little over fourteen months, and 
held that position until about 2:30p this afternoon. If you are most of the people who 
work at Wieden, I did not say one word to you during any of those 624,970 minutes. 
Please don't feel like this is your fault. It takes me between 14 and 16 months to feel 
un-shy enough around a new person to talk to that person, so the math just didn't 
work out in our favor. 
And now I'm about to walk out those silly huge metal doors one last time (I'm sitting 
at my cleaned-out desk right now, about to post this and leave), and I'm deeply 
regretting that I wasn't brave enough to meet and know more of you. You are all 
exceptional people. People worth knowing. 
Maybe my guilt- and regret- twinges will stop if I tell you some things about myself 
I might have eventually told you in person, had we become friends. Maybe then I 
can feel like you knew me a little, so you aren't just all "Why in the world did someone 
hire Backstreet Boy and former Paris Hilton infatuate Nick Carter to write advertisements 
for the best advertisement agency in the world? This place thinks so far outside of the 
proverbial box in terms of hiring that they can't even see the box anymore, not even as 
a distant point on the horizon, because they have thought themselves so far away from 
and outside of it (the box)!"
No, I am not that Nick Carter, and no, you are not the first person to notice that my name 
is the same as a formerly famous person's. Let's just say it was difficult for me to 
comfortably buy CDs ("Wow, you don't look ANYTHING like Nick Carter. Just how thick 
are your glasses, by the way?") in the mid- to late-90's, and move on to more fertile 
conversational ground.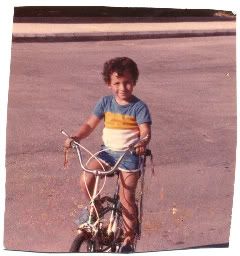 1.) This is me (I am not nearly this cute anymore) riding my first bike down a 
street in Saudi Arabia, where I lived for a year while my dad installed and 
repaired A/C systems in the Riyadh Airport. One afternoon, my dad took me 
to a white tent out in the desert and we watched a cobra fight a mongoose. 
I think this is the Saudi Arabian equivalent of a cock-fight. A cobra and a 
mongoose are pretty evenly matched (what a mongoose lacks in venom and 
general scariness it makes up for with speed and teeth), and they're probably 
about tied in the cosmic series of un- and organized fights since evolution made 
them hate each other, but that afternoon, I watched at thigh-level in a crowd of 
yelling, dusty men as the cobra won with stunning authority. 
2.) In high school, I played the tuba and defensive tackle. Yes, I was as fat 
as that makes me sound: 270 pounds! The other thing I played in high school 
was professional paintball. That is not a lie.
"Wait a dadgum minute here Nick, you weighed 270 pounds, played the tuba 
at an all-district level, played defensive tackle for a terrible football team at a 
second-string level, and you were on a professional paintball team, and you 
were on the school Math Team, AND you spent most of freshman year carrying  
around a protective plexiglass box of Magic: The Gathering cards? You must 
have been quite popular, especially with ladies!"
Yes, I was like Clark Gable, if Clark Gable had been way overweight with a 
penchant for deeply uncool hobbies and interests which penchant led to Clark 
Gable being not at all popular or attractive to anyone, particularly ladies. 
This is what professional tournament paintball looks like, for those of you 
who've never watched Versus (The network for dicks! ©) at 3:30a. PLEASE 
PLEASE PLEASE mute the terrible music:

3.) My middle name is Wade. I cannot give you any insight into why my parents 
selected that name as opposed to the literally millions of more un-stupid middle names. 
Nicholas Wade Carter. 
4.) Right after I went to college, my dad died. He was big too, bigger than me. After 
that, I decided it was a better idea to not be that big, and so I ran every day and ate 
like a slowly shrinking bird until I was roughly the size I am now. One day at the gym, 
after I'd shrunk, my friend Charlie handed me two 50-pound dumbbells and said 
"That's what you used to weigh. Can you believe it?" Meaning my current weight plus 
the dumbbells. I could barely carry them, the dumbbells, basically had to Heave-Ho 
and swing them back on the rack one at a time, the impacts of which made the whole 
wall-length iron rack shudder and ring.  
5.) I didn't realize I wanted to seriously write until I read this book by David Foster Wallace 
called Infinite Jest. 
I know it's almost a cliche for people my age to point to this specific book as the one 
that opened their literary eyes, but cliches are usually true, so deal with it. Who are you, 
Commissioner of the Cliche Police, running for re-election on a platform of Harshing 
My Buzz? I found this book by accident in a Sam Goody of all places, just sitting there 
on the bottom shelf, taking up most of it (1079 pages long and like four inches thick). 
Reading this book, it occurred to me how incredible and unlikely it is, when you think 
of all the words that make up our language, and consider the literally infinite number of 
ways to arrange those words, what staggeringly long odds a person who wants to arrange 
them in ways that are pretty, sad, funny, or true (or all those) truly faces. And how brave 
it is when they go ahead and face them anyway. Since I read this book, read for the first 
time writing that spins beauty from air as if magic was easy, makes you forget it's writing 
at all, really, and not something that's happening in front of you, right now, for real, I've 
wanted to try and write like that too. 
I tried to do it WK, but never felt like I was doing it particularly well. In my opinion. I just
don't have the mental cajones to handle the Chaos and general hair-on-fireness. I admire the 
people who do. So I'm going to go try and write somewhere else for a while, somewhere more 
peaceful, and see if that works better. 
And maybe someday I'll come back here with my hat in my hand and ask for another shot. 
And if the folks in charge give me one, I can almost guarantee I will not talk to you then 
either. But it won't be your fault. That's just how I am out there in the world, as opposed to 
here, typed out.
-nick
*********
Post Script:
*********
Some of those things up there I have not told anyone but my closest friends. And even 
though you didn't ask me to tell you those things, you now officially owe me some dirt on 
your own personal self. This isn't just about you guys knowing dumb shit about me, it's about 
me using a medium where I feel comfortable to make a lame attempt at 11th hour bonding 
with people around whom I was too timid to bond in real life. So play along, if you can 
temporarily shrug off the feeling that everything earnest is lame and uncool. I know this is 
hard for people in advertising to do. 
In the comments, tell me/everyone something I/we don't know. Just one thing. Use your name.